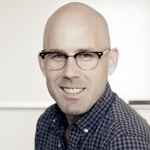 Graduate Student
B.A., Linguistics – Univ. of California at Santa Cruz, 2004
M.A., Linguistics – San Francisco State University, 2013
M.A., Education – San Jose State University, 2015
E-Mail: 

cooperborken@wisc.edu
Research Interests
I am interested in language as it pertains to reading development and performance. This comes in the form of investigating both typical and atypical development in a variety of experimental contexts and methods. Working within the framework of the triangle model of skilled reading (Seidenberg & McClelland, 1989), I use computational models to investigate the relationship between properties of language, print, and the development of mental representations in the service of reading development. My relevant past experiences span linguistic and educational research at the university, as well as working as an elementary school teacher specializing in literacy instruction for children with language-based learning differences. My applied interests include working on research aimed to advance educational practice in the elementary years, especially related to language development in educational settings.
Current Research
My current research with Mark S. Seidenberg investigates the extent to which linguistic complexity plays a role in reading comprehension across mathematical and conventional texts for individuals who range in their reading and math performance.
Past Research and Related Projects
My past research has included investigating the syntactic expression of children with writing challenges (dysgraphia). I have also been involved in praxis related work in elementary education, including conducting workshops with educators in how and when to bring relevant research to the elementary classroom. This has also included the research and development of assessments for children with special needs.
Personal Interests
When I am not learning about learning, I love to spend time with my wife, Kristen, and children, Jameson, Dylan, and Stella. This usually involves adventures including but not limited to collecting bugs, rocks, and sticks for our ever growing collection of nature treasures in and around our home. I also enjoy playing the guitar, volunteerism, and spending as much time as possible with my wonderful wife.
Publications
Cooper Borkenhagen, M. J., & Madigan, J. M. (2015). Ancillary Materials. In Overton, T., Assessing Learners with Special Needs: An Applied Approach, 8th Edition. New Jersey: Pearson.