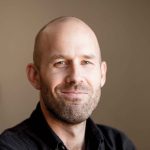 Graduate Student
B.A., Linguistics – Univ. of California at Santa Cruz, 2004
M.A., Linguistics – San Francisco State University, 2013
M.A., Education – San Jose State University, 2015
M.S., Psychology – UW Madison, 2017
E-Mail: 

cooperborken@wisc.edu
Research Interests
I have broad interests in the characteristics of language and print that shape development, and how readers develop the ability to read the printed language given such factors. Furthermore, I am concerned with how we can use scientific knowledge of reading development to enhance learning. I investigate reading using a variety of methods. Working within the framework of the triangle model of skilled reading (Seidenberg & McClelland, 1989), one part of my work uses computational models to investigate the relationship between properties of language, print, and the development of mental representations of phonology, semantics, and orthography in the service of reading development. My relevant past experiences span linguistic and educational research at the university, as well as working as an elementary school teacher specializing in literacy instruction for children with language-based learning differences.
Relevant past research and experience has included investigating the syntactic expression of children with writing challenges (dysgraphia). I have also been involved in praxis related work in elementary education, including conducting workshops with educators in how and when to bring relevant research to the elementary classroom. This has also included the research and development of assessments for children with special needs. I currently advise educational interest groups on programs and services in applied educational contexts, including work as a science adviser to Wisconsin Literacy in Madison, WI.
Current Research
My current research with Mark S. Seidenberg is investigating three things: (1) how the printed word impacts the development of semantic knowledge, (2) how the convergence of orthographic and phonological codes interactively support single word reading performance, and (3) how we can exploit semantic, phonological, and orthographic knowledge to accelerate learning basic reading skills in early developing readers.
Support
I am a predoctoral Fellow in the Interdisciplinary Training Program in Education Sciences at UW-Madison, and am a predoctoral mentee on a NICHD Learning Disabilities Hub grant operating collaboratively with Florida State University, University of Connecticut, and Yale University.
Personal Interests
When I am not learning about learning, I love to spend time with my wife, Kristen, and children, Jameson and Dylan. This usually involves adventures including but not limited to collecting bugs, rocks, and sticks for our ever growing collection of nature treasures in and around our home. I also enjoy playing the guitar, volunteerism, and spending as much time as possible with my wonderful wife.