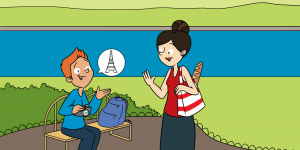 Are you looking for a fun way to incorporate science into homeschooling your children during this pandemic? If so, here's a suggestion: LCNL researchers Charles Rojas, Elise Hopman, and Maryellen MacDonald published an article today explaining their language learning research to kids. Their article, "How can you get better at learning a foreign language?" is available in Frontiers for Young Minds, a scientific journal for kids.
 "Learning a foreign language is so much fun, and we really tried to convey that in the article," says Charles Rojas '19. He wrote the first draft of this article during the fall semester of his senior year while he was a research assistant in LCNL working with Elise and Maryellen.
Charles says that "while the article was written for kids, it still follows rigorous criteria that are normal in academic writing. We wrote an abstract, there was a word limit, and the article even got peer-reviewed." Normally, when scientists are writing an article about their research, their articles get peer-reviewed by other scientists before the article gets published. For this article, our researchers got to work with feedback from a group of children in an after-school science club in New Mexico. "Getting feedback from the child reviewers was extremely valuable: the kids are bilingual and thus had a different perspective when it came to reading our article." says Charles. "They pointed out to us ways in which the article wasn't quite inclusive of kids whose native language is not English, so based on that, we got to make changes to make sure that the published article is applicable to all children who can read an English article," something that's especially important to Charles who is himself multilingual and a child of immigrants.
We hope that lots of families will look at the article and find it helpful. As a bonus, by reading the article, you and your children won't just learn about research and the scientific method; you will learn practical, research-based tips for foreign language learning. Says Charles, "I'm hoping our article can help kids, and their parents, be motivated to spend some time during COVID-homeschooling on foreign language learning."